Frequesntly Asked Questions
Equipment
What devices and platforms does FlyGateVPN support?
Currently, FlyGateVPN supports for Windows, macOS, Android, iOS. You can enjoy our service on Windows PC, MAC, Android Phone, Android Tablet, iPhone & iPad.
How to use FlyGateVPN on iPhone?
We are very supportive of using FlyGateVPN on iPhones or iPads.
The specific operation process is as follows:
Open the iPhone or iPad "App Store", search for "FlyGateVPN" in the App Store to download and install normally.
How to use FlyGateVPN on Android phones?
We very much support the use of FlyGateVPN on Android phones or Android tablets.
The specific operation process is as follows:
Open Google "Play Store" on your Android phone and search for "AordVPN" in App Store to download and install normally.
VPN server location
Today, FlyGateVN has over 1700 servers in 97 countries around the world.
Users can access these locations/countries/regions/servers and access their respective subscriptions. The consumer is automatically connected to a less used server or can manually select a server from a list. When the number of active users increases, additional servers are activated.
Agreement and Number of devices:
In a personal plan, 1 to 4 devices can be used online at the same time, whether it is the FlyGateVPN client for Windows,Mac, iOS or Android.
Bandwidth:
VPN server connections are not subject to artificial bandwidth limits due to your Internet connection speed and VPN server uplink.
Do you need to change firewall Settings?
If you use the FlyGateVPN application to connect in a typical home setup, you should not need to change.
If you find that you cannot connect, you may need to turn on the VPN type router of your choice.
Can't install TAP device - what am I doing wrong?
Sometimes software conflicts or driver signing issues prevent a successful installation of an application's TAP driver. To resolve this issue, do the following:
Leave FlyGateVPN.

Download and install OpenVPN's latest TAP driver.

Restart the FlyGateVPN Windows application and connect it to the server you need.
Please contact our support team if you have any problems or cannot resolve them.
How do I get VPN service?
Getting a VPN app is easy! Install FlyGateVPN on your Windows, Mac, iOS or Android and enjoy a secure and encrypted web experience.
1. Get FlyGateVPN
2. Download the app for Windows, Mac, iOS or Android.
3. Follow the instructions to set up FlyGateVPN on your device.
4. One-click connection to the server to enjoy your secure Internet privately and securely.
Account
Does FlyGateVPN have any other official or officially authorized site on the web?
No. This is the only official site of FlyGateVPN brand.
To guarantee a 100% official and safe FlyGateVPN download and purchase, here is a recommended places you can completely trust on:
https://flygatecheckout.com/order?product=FlyGateVPN - the official site of FlyGateVPN, with download and purchase pages respectively.
Please keep away from other FlyGateVPN -named or FlyGateVPN -similarly-named products or sites because they give either pirated or counterfeit software of FlyGateVPN , it is very probably less quality .
Our team will spare no efforts to fend against the pirated or counterfeit software of FlyGateVPN.
Can I share my account with others?
For the security of your account, non-customized accounts are limited to personal use. Please do not share your account with others. The loss caused by sharing to others will be borne by you.
What does the number of devices mean?
The number of devices refers to the total number of devices which can be used simultaneously. You can install FlyGateVPN client on multiple devices. If you have purchased a plan, you can use FlyGateVPN on 4 devices at the same time.
Can I fill in the invitation code after registration?
Yes, you can fill in the invitation code on our official site and Android client after registration. Open the left column and click "Get 30 Day Free" in the Andriod client, or sign in your account you can find it. Note: You only can fill in the invitation code within 7 days after registration.
Can I recharge before the VIP membership expires?
Of course. You can recharge before the membership is over and the remaining days still work.
What can I do if I forgot the password?
1. If you have bound an email address for your account, please click the "Forgot Password ?" button, then you can reset the password via your email address
2. If you didn't bind an email, please chat with us.
What can I do if I don't remember the account ID?
please send us a screenshot about the order details via email (Support@FlyGatevpn.com), our customer service team will help you check your FlyGateVPN ID.
How to get started?
Hey there! We are happy to have you at FlyGateVPN!
FlyGateVPN APP:a one-stop solution for your phone, tablet, or computer
If you haven't purchased a subscription yet, you can quickly do that https://flygatecheckout.com/order?product=FlyGateVPN.
You will not be able to use the FlyGateVPN without having a valid subscription.
How do you start the VPN service?
The FlyGateVPN application is very simple, it only takes a few minutes to complete the setup. Please read this tutorial:
1.Download and install the FlyGateVPN application.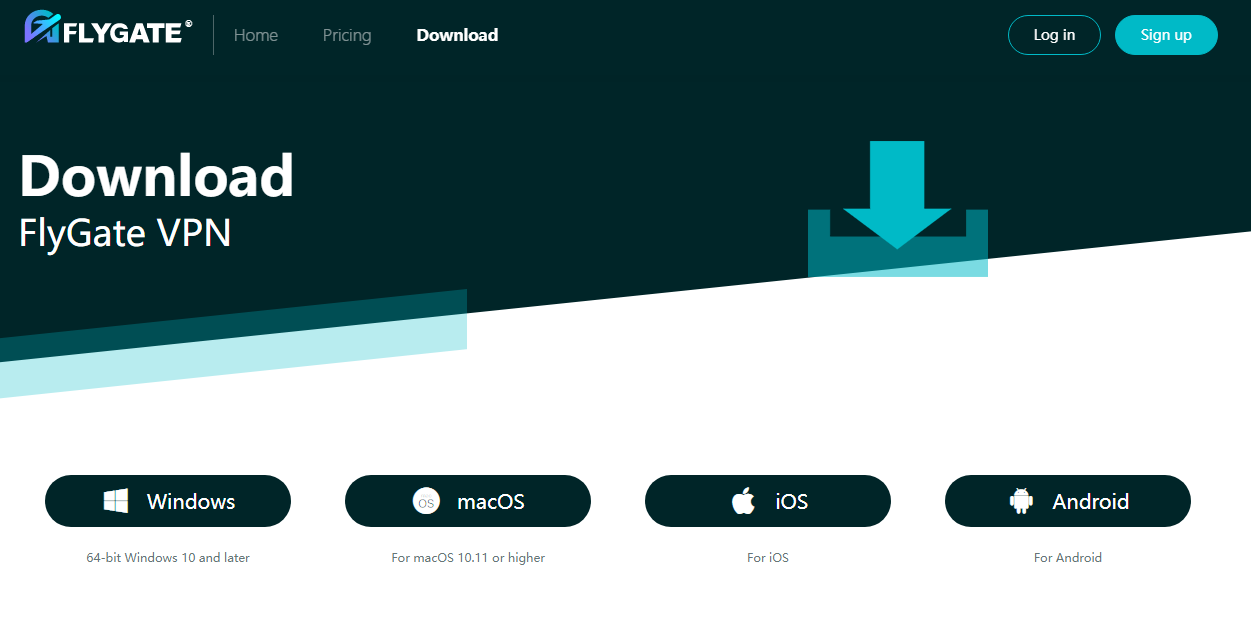 2.Register to create a new account or log in if you already have one.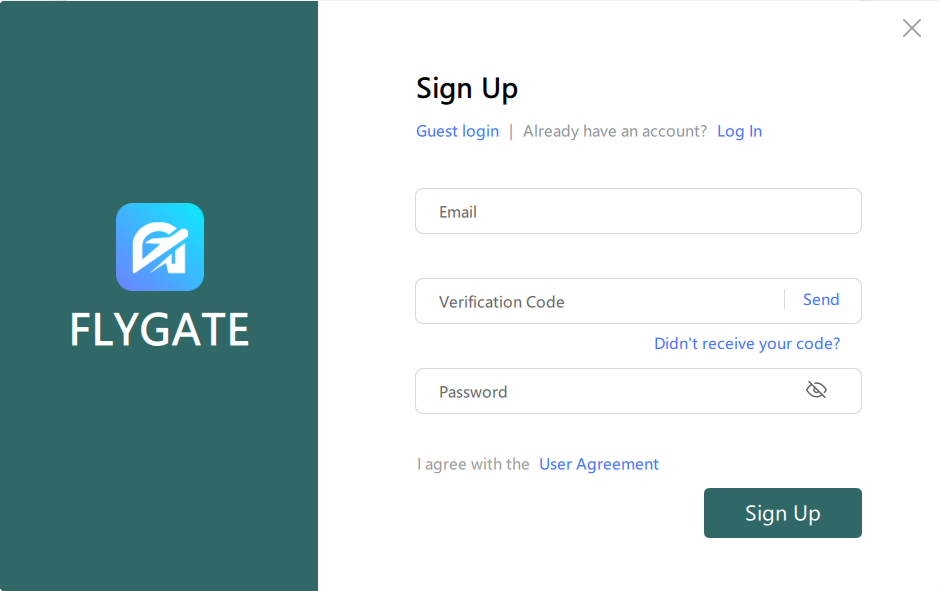 3.Press the "ClickTo Connect" button, and it will automatically select the most suitable server.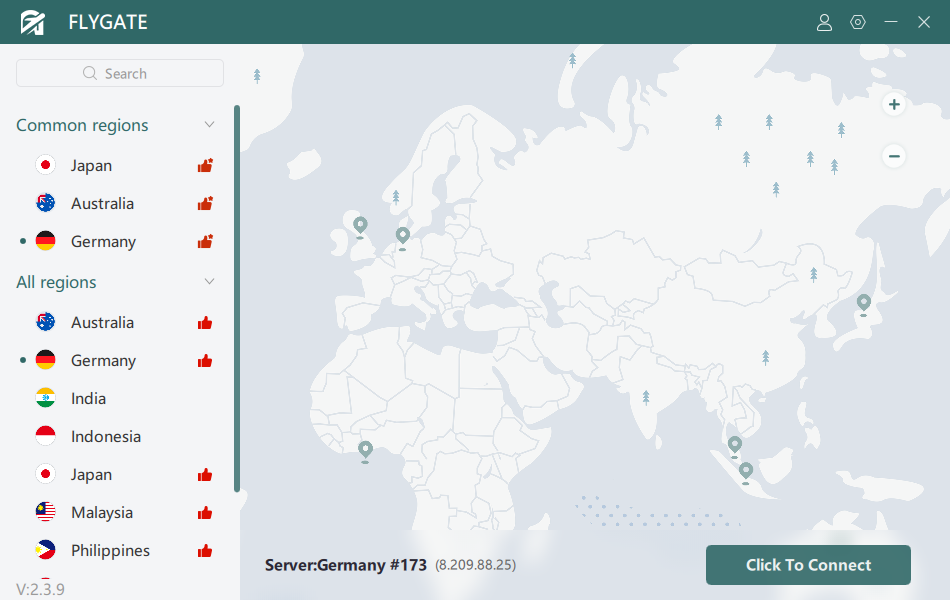 Why is my FlyGateVPN account inactive after subscribing successfully
You have paid for our FlyGateVPN service, but it still insists that you make a plan. Why? The most common reason is that different payment methods take time to verify. Here are some points of reference:
Payment by credit card may take 40 minutes to verify.

Payment via ideal (Netherlands) may take up to 40 minutes to verify.

Payment via CoinPayments may take up to 24 hours to be verified.

Or, your payment is unlikely to be incorrectly flagged as suspected fraud. If so, your payment will be returned to your credit card. In order to complete the purchase, you need to contact our support staff and provide a proof of non-fraud.
As always, if you have any questions or want to know about you, please contact our support team.
FlyGateVPN stores the original email address?
There are only the most recent E-mail addresses in the FlyGateVPN database records.
What can I do to be really safe with FlyGateVPN?
When using FlyGateVPN, the following steps help keep you safe:
Periodically clear the cache and browse data in the browser.

When you surf the web, each of the different websites has a separate viewing window. When you access your Google account, for example, make sure your profile isn't tracked or relevant.

Make sure your DNS server is not compromised. You can check on this website.

You can also set up the auto-connection feature, which automatically connects to the VPN server when you log in to the FlyGateVPN app. See the application tutorial for instructions on how to use automatic connections in different applications.

You can use our customized VPN software for Windows, macOS, Android and Linux devices in FlyGateVPN software.
I forgot my username. What is it?
Your FlyGareVPN username is the email address or 8-digit account you used to sign up for the service when you created the account. If you have changed an email address associated with your account, your FlyGareVPN username is the new email address.
I didn't get the activation key. Where is it?
After purchasing FlyGateVPN on our website, you will not be able to receive the activation key as your subscription will be activated immediately.
All you have to do is enter your username and password!
The required information (subscription type and duration) is obtained from our server without the need for an activation key.
As described above, the activation of a subscription purchased online occurs automatically when the payment process for the account used in the purchase process is complete.
If an application does not reflect activation, you may not log in using the account you originally used to purchase the subscription.
To ensure that you have logged in with the correct username/password, please log in again.
Note: To use subscriptions, make sure you always log in with the credentials you originally used when you made the purchase. If it is a newly established account, you should provide the username and password in the confirmation email sent to you by FlyGateVPN after purchase (if you do not save).
If you have lost your credentials, or you would like to have your account restored by email (the email address must be the one you used to make the purchase), simply go to the login page and click:Forgot Password ?
Price
What payment methods does FlyGateVPN accept?
Currently, we accept Credit card, Unionpay, Bitcoin, Google Play, Payssion, etc.
How much rewards time can I get via inviting friends?
For the promotion phase of FlyGateVPN, if your friend recharges for the first time, both you and your friend can get VIP membership as a reward.
The reward rules are as follows:
After a friend successfully registering and becoming a VIP user via your invitation link, you and your friends will get 30-day VIP membership
Is FlyGateVPN free?
Can not.
FlyGateVPN provides high-quality VPN services, but some devices can be tried for free.
In addition, all subscribers have a 30-day money-back guarantee, which means that if you change your mind, our trial period is one month.
How to apply for a 30-day refund?
FlyGateVPN believes that you will enjoy the most reliable ultra-fast VPN in the world. If you are dissatisfied with your experience for any reason, you have a full 30 days to get compensation for any FlyGateVPN project you choose. Please contact the FlyGateVPN support team directly.
How to cancel free experience or subscription with GooglePlay payment
If you are not satisfied with FlyGateVPN, you can cancel the free trial period at least 24 hours before the end of the free trial period or the start of the next payment period through the GooglePlay Store. Otherwise, your expenses will continue.
How can I cancel the free trial:
lOpen the Play Store app on the device. (Please make sure you log in to your Google account to sign up for a free trial or subscription.)
lClick the profile icon at the top right.
lClick Pay and Subscribe> Subscribe.
lPlease choose FlyGateVPN.
lClick Cancel.
You can also use FlyGateVPN for free trial or free subscription until the last day of subscription.
How to cancel free trials and subscriptions in the App Store
When you register for a free trial or subscription in the AppStore, you can cancel the free trial or subscription through the AppStore.
In order to avoid charges, please cancel 24 hours before the free trial period or the next payment. Otherwise, your account will be automatically settled monthly or every 12 months according to the plan you choose.
To cancel a free trial or subscription on iOS:
lLog in to the app store account you used to get a free trial or subscription.
lOpen your subscription list.
lSelect to cancel the trial period or cancel the reservation.
lChoose Confirm.
After the cancellation, you can continue to use FlyGateVPN until it expires.
How much does FlyGateVPN charge?
FlyGateVPN provides three standard subscription plans. The monthly subscription fee for the plan is US$9.9, 12 months is US$4.17, and 36 months is US$2.77. For more information, please visit our pricing page.
Can I purchase more than one FlyGateVPN account?
Every FlyGateVPN account has a subscription. You can connect all devices to FlyGateVPN after each subscription, no matter what platform it is.
You can use the same account to purchase more subscriptions (unless your account is through Apple in-app purchases). With additional subscriptions, you can connect more devices to FlyGateVPN at once.
In addition, you can also buy another account. It requires different email addresses and provides you with different sets of account credentials.
Why doesn't FlyGateVPN have a lifetime subscription?
Are you willing to pay for a "lifetime" subscription for a few years?
What if the subscription company goes bankrupt? Worse, what if the company is acquired? Your data is not only in the hands of a third party, but the transfer of ownership may not provide a lifetime service continuation.
Every time you log in to a lifetime VPN subscription, you will use the service that the provider cannot get more revenue. You become a pressure and a heavy burden on resources. Frankly speaking, they would rather you stop using it.
FlyGateVPN attaches great importance to its customers and tries to keep them, which is why we continue to invest in new applications, better user interfaces and stronger security.
FlyGateVPN does not have a lifetime subscription, and there will never be one.
How to purchase a FlyGateVPN subscription
To purchase a FlyGateVPN subscription, please log in to https://www.flygatevpn.com/.
Alternatively, you can click on the pricing at the top of the page you are currently on:

You will see all available deals on the price page. Click on the one you want and fill in all the information needed to complete the purchase according to the steps.
If you have any questions, please feel free to contact us!
How much does it cost to renew?
After the first plan ends, your subscription will automatically be renewed at the current price of the service, unless you cancel the recurring payment subscription.
The subscription fee can be changed, but if any changes occur, you will always be notified before you can update.
Do you offer any special value-added services?
FlyGateVPN has added layers of functionality, network security services, and superior availability to take basic VPN services to the next level. With these features, you can find a large network of servers that can be optimized for special purposes, one of which automatically terminates the switch when the connection is disconnected.
In addition, FlyGateVPN has a strict no-log policy because it is not governed by the United States and the European Union. It means that we don't track when users are online, what servers are connected to, what websites are visited, what files are downloaded.
Do you provide purchases in the application?
Yes, we support purchase on Windows, Android devices and Apple devices.
Is there a free trial period?
Our company does not offer a free trial period for the time being, but if you sign up on our website for one or two years, we suggest that we offer a 30-day money-back guarantee.
FlyGateVPN monthly accounts and iTunes accounts created in our iOS app are not eligible for a 30 day refund guarantee. Apple must be responsible for processing refund requests for any and all accounts.
Additional payments or hidden expenses?
Neither!
One purchase - You have purchased the restricted service offered by FlyGateVPN.
When your account expires, your subscription will be automatically renewed. If you cancel automatic renewal, you must re-subscribe to the service in order to continue using automatic renewal.
How do I suspend or restart a subscription?
To suspend your monthly or annual subscription, first open my Account page and then go to the "Billing" area.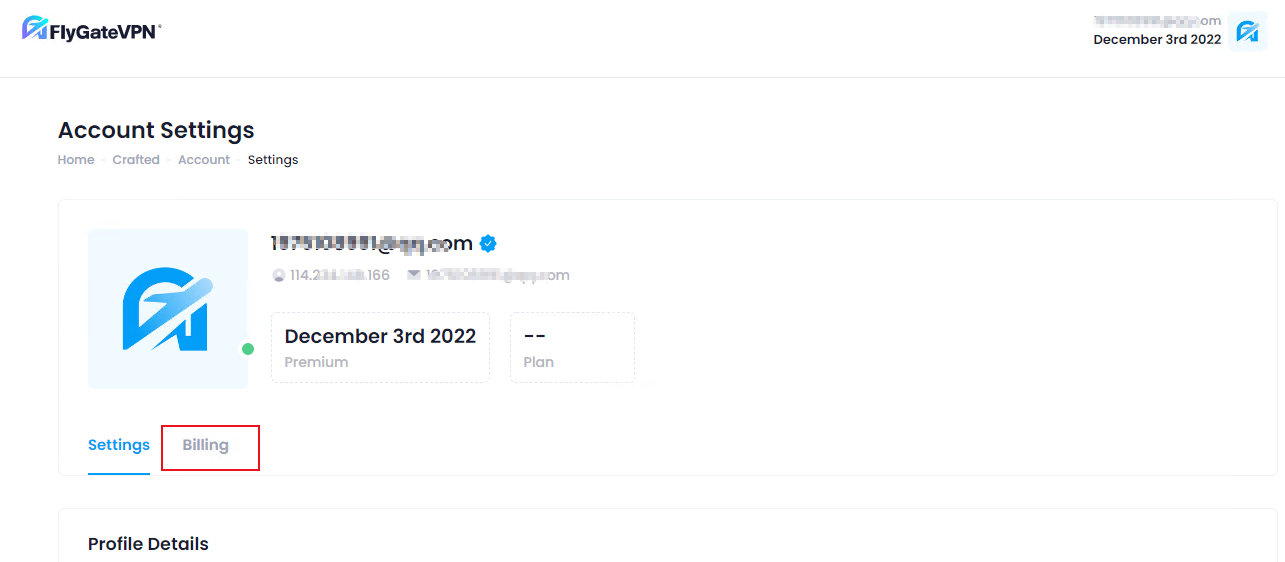 Click the "Off automatic renewal" button on the right of the page immediately:
That's all. Your subscription will be suspended on the next possible date and a confirmation email will be sent to you.
Turning off automatic renewal of subscriptions will not result in any refund as this is a separate manual event.
The reactivation
To resume your subscription, click on the Bill Details page or send to the Turn on automatic renewal button in your confirmation email.
How to retrieve purchase invoice?
To obtain an invoice, perform the following steps:
1. Log in to the FlyGateVPN account.
2. Go to "Billing" on your account page.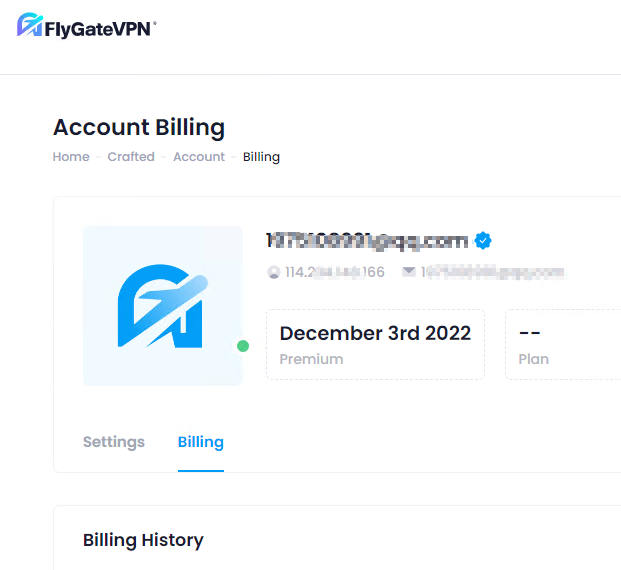 Your subscription status will be displayed. To generate invoices separately, click the Download icon.
Will the payment be recorded or compromise my anonymity?
I can't. Your personal information (such as your credit card number or PayPal account) is stored by the appropriate third-party seller and usually stored separately in your FlyGateVPN account. Seller or Distributor will not have access to any information about the account other than the anonymous ID and will not notify FlyGateVPN of the purchasing subscriber.
Are VPN Legal?
VPNs are legal in most countries/regions.
However, VPNs are regulated or banned in certain countries/regions, such as China, Iran, and Russia. The list of illegal countries/regions for VPN is ready and we will update it regularly.

How can I watch the Internet from abroad?
Let's say CarmenSandiego is coming to an end, but you can't access Netflix because you're out of the country, or popular movies like TheNameaboveTheTitle($$$) and BlackWidow won't even be released on Netflix in your country. It's frustrating.

You can't do it any other way than in other countries where there are shows and movies. What about Netflix abroad? You can always use a VPN to help you change your IP so you can access Netflix in other countries.
Netflix is one of the world's largest libraries and the first streaming service. Whether you're looking for a thriller or a funny comedy, Netflix has it for you. However, programs and movies vary depending on where you live, and in some countries, the content is limited.
Through this article, you'll step by step learn Netflix's best VPN for watching Netflix abroad. Read on!
How to watch Overseas Netflix movies?
These days, when you break through the geographic limits of Netflix viewing, you see some mistakes and benefits. For many subscribers, the benefits seem even more obvious. What about Netflix abroad? Vpn-flygatevpn is all you need. Considering that Netflix plays content based on a user's IP address, and then by blocking your real IP and replacing it with a selected country/region, you can successfully bypass geographic restrictions and even access whatever content you want with the smelly VPNNetflix blocking problem.
Here's what happens when you watch Netflix with FlyGate.
1. Hide your IP.
With FlyGate, you can successfully hide your IPVPN address and trick Netflix from other countries. After your network traffic is fully encrypted, you can use FlyGateVPN to actually watch any content, anywhere.
2. Customize the streaming media server.
FlyGate is designed to be the best streaming VPN for a variety of streaming services :Netflix.Disney+.Hulu.BBCiPlayer. Comment based HuluVPN is the most powerful!
3. Global network coverage.
With FlyGate, you can choose multiple locations while watching Netflix. FlyGate is available in more than 97 locations around the world (USA). Singapore. India. Canada. Japan, Russia, South Korea...) With over 153 servers, it allows you to spoof your IP globally.
4. Free trial VPN.
In contrast to other VPNS,FlyGate offers a true free trial. With a paid plan, you can get 700Mbdata per day; Maybe that's not enough for streaming, but it's an opportunity to try before you make a decision.
5. Unlimited bandwidth.
Most VPNS these days set a limit on your bandwidth, but FlyGate doesn't. You can enjoy your favorite Netflix shows without worrying about big data transfers affecting bandwidth.
6. Turn off the switch.
KillSwitch is an advanced security protection that blocks network traffic when the connection is down and protects your personal information. So, when you use Netflix, your IP and data are safe. KillSwitch is also essential in telegraph VPN.
Want to know more about Kill Switch FlyGate? What is a VPN Kill Switch?
7. Bank-level encryption.
Given that Netflix saves your banking and payment details, it's best to use FlyGate's military-grade encryption to protect your billing information so your data isn't subject to potential cybercrime.
8.UDP streaming/gaming protocol.
Another important feature of continuous streaming is the UDP protocol, which FlyGate also uses to ensure ultra-fast and stable connections. With UDP, you can say goodbye to the Netflix buffer and enjoy continuous streaming right away.
For gamers, you can learn more about FlyGate gaming VPN here: the best WarzoneVPN, with the best gaming experience.
9. Supports multiple devices.
FlyGate supports multiple devices, making it great for sharing and getting better deals. While Netflix accounts are available for multiple devices, FlyGate makes it easier to access Netflix.
10.VPN cross-platform.
FlyGate is available on Android devices on Windows, Mac, and iOS devices. MacOS version is coming soon, so stay tuned!
All right, let's take a look at how to watch Netflix using FlyGate.
You can check Netflix directly using a streaming server and FlyGateVPN.
With FlyGate's dedicated streaming server, you can easily watch your favorite Netflix shows and even access Netflix while on the go, and watch any Netflix content with no geographic restrictions. FlyGate has the best streaming VPN experience you can try right away and stream Netflix non-stop today.
FIFA World Cup secure, high-speed, unlimited VPN viewing.
Whether you like football or not, you've probably heard about the FIFA World Cup. The FIFA World Cup is not only football's highest honor, but also its most influential event. Every time the World Cup is held, it is warmly welcomed and discussed by people all over the world. With the 2022 World Cup in Qatar just around the corner, the qualifying campaign is getting tougher. But for some reason, not everyone gets to see the game or the game. So what's the solution? Using a VPN to watch the World Cup may be the best solution.
If you want to watch the FIFA World Cup using a VPN, read on. You'll learn how to pick a free and reliable VPN and use it to meet your need for clarity and fluency at the World Cup.
Why VPN for FIFA World Cup?
As noted above, not everyone can watch FIFA World Cup qualifying matches. Perhaps because of geography, there are no broadcast rights for the World Cup. For some reason, normal streaming platforms are not available. Or for other reasons. The best solution is to use a VPN. So, why? Establishing a secure, temporary connection over a public network (usually the Internet), a secure and stable tunnel through the clutter of public networks. The FIFA World Cup VPN has two main features for watching matches.
Look around the world.
The FIFA World Cup VPN will provide qualifiers for all countries, no matter where you are. VPNS usually have many connections that can connect to different countries. You can choose where you want to watch, or connect to a fixed country and log in to the free video.
Safe and reliable
A VPN uses the encryption technology to establish tunnels to encrypt transmitted data, ensuring data privacy and security. So, you don't need to worry about leaking your data and personal information. You can watch the World Cup without worrying. Now that you know the benefits of using a VPN to watch the World Cup, what VPN would you choose? There are many VPNS on the market to watch the FIFA World Cup. For now, I recommend FlyGateVPN.
FlyGateVPN is a free, secure and fast VPN. In order to watch the World Cup, it has the following advantages.
free
This VPN allows free access to the FIFA World Cup. Although the daily traffic of this free VPN is limited, there are basically no problems. You can watch your favorite World Cup qualifiers for free.
Speed is fast
FlyGateVPN is a VPN for fast viewing of the World Cup. Using UDP, FlyGateVPN finds the fastest connections, allowing you to watch the World Cup without buffering, latency and bandwidth limitations. You can enjoy the best viewing experience.
Security private
It is also a very secure and private World Cup viewing venue. Using THE TCP protocol, FlyGateVPN is the best way to protect your network security and privacy and prevent your data from being stolen. In the meantime, you don't have to choose "Speed or safety? FlyGateVPN also has the AUTO protocol, so it guarantees your Internet access speed and privacy. Using this secure VPN on your PC or Android/iOS phone, you can watch football in this mode.
Use the global network.
This World Cup VPN will let you know about the global network. You can log in and watch the World Cup qualifiers you want. You can also select another connection to find local media or broadcast channels.
More than 158 servers, 100 + locations, and up to 4 devices.
FlyGateVPN has multiple servers to ensure smooth viewing of the World Cup. With over 100 venues, you can enjoy a global network to watch games in different regions. No more than 4 devices means you can log in from different devices at the same time.
At the same time, it also provides customers with 7*24 hours service, providing excellent customer service experience. Plus, with the paid plan, you can get a refund within 30 days if you're not satisfied.
How about this? Is it easy to use? In addition to these features, FlyGateVPN has other advantages. For example, hide IP addresses. It will make it easy to watch the World Cup around the world. Here's how to use FlyGateVPN.
Step 1: Download FlyGate VPN on any of your computers and mobile devices.
Step 2: Select country location
Step 3: Open the FlyGate VPN and press the Connect button.
Fast and secure, VPN is your best choice. FlyGateVPN has everything you need and is perfect for anyone who wants to use a VPN and browse the Internet securely at high speed.
more on:FlyGateVPN